El Paso County Real Estate Report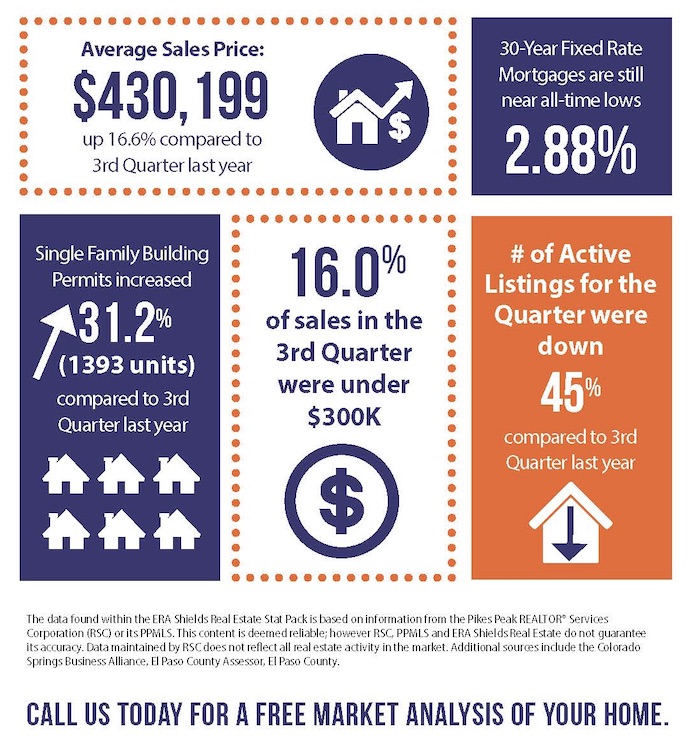 El Paso County Market Analysis following the close of Q3, 2020: 
Average Sales Price up 16.6% compared to 3rd quarter 2019 – $430,199
30-Year Fixed Rate Mortgages are still near all-time lows – 2.88%
16% of sales in the 3rd Quarter were under $300k
Number of Active Listings were down 45% compared to 3rd quarter last year
Single Family Building Permits increased 31.2% (1393 units) compared to 3rd quarter last year
What does this mean for Buyers?
Unfortunately, this is not great news for buyers.  Inventory is very limited, particularly homes under $300,000.  We have seen several weeks with less than 1,000 listings on the market.  Although inventory is tight, mortgage rates are still near an all-time low and rent is only increasing, making buying a much better option than renting. 
What does this mean for Sellers?
For sellers, now is a great time to sell.  Buyers do not have many choices, so Sellers are receiving multiple offers, many over the asking price.  Additionally, appraisal requirements have been waived by banks and Buyers are often waiving appraisals or offering to pay the appraisal gap.  If you are looking to sell your home, contact us for a free market analysis.  
What does this mean for Homeowners?
With average prices continuing to increase, we are seeing double digit property appreciation. 
What does this mean for the future Real Estate Market?
We are expecting the housing market will continue to stay strong for the next couple years.   There is not enough inventory to fit the demand, so we will see building continue to rise to fill the demand.  
Visit our Q3 2020 Stat Pack to see the full report and analysis.