January 2023 Real Estate Market Update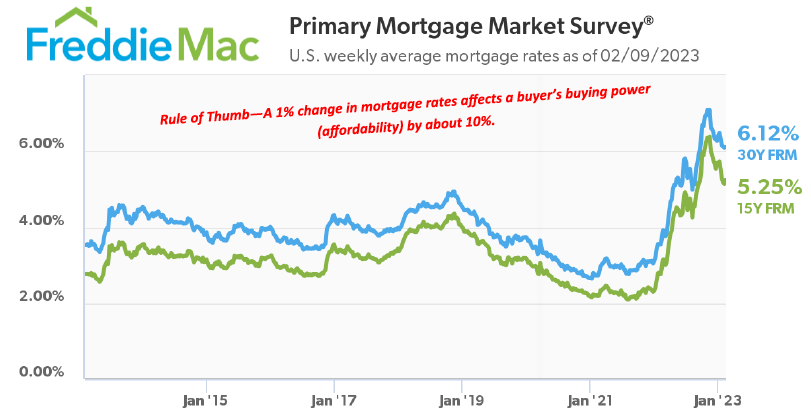 Colorado Springs Real Estate Quick Facts
30-year mortgage rates settled back down to 6.13%, down nearly a point from November's peak
1,172 active listings are on the market, which is up 291% from last year
Total new listings for the month were 783, which is down 20% from last year
There were 561 sales for the month, which is down 32% from last year
List price/sales price ratio was 99% for the month; last year it was 100.1%
Average sales price for the month was $523,739, up 2.7% from last year
Average days on market for sold homes was 50; last year it was 14 days
Single family permits YTD are at 154, down from 412 units from this time last year
The year is starting off a little slow, especially when compared to 12 months ago when the market was absolutely crazy. Listings are up almost 300%, sales are down 32% and prices are relatively flat. That may sound bad, but you have to remember 1-year ago we had fewer than 300 active listings (record low) on the market in all of the metro area and sales were at record levels thanks to mortgage rates below 3%.
With the jump in mortgage rates during the second half of 2022, we saw a significant number of buyers head to the sidelines. However, demand remained high…just not ab-surdly high! The unintended consequence of higher mortgage rates has also taken many buyers out of the game since their current mortgage rate is below 3% and if they were to buy something new, the new rate would be above 6% making their monthly payment significantly higher.
The lack of new listings hitting the market and continued solid demand will allow home prices to rise at a more modest rate of 1%-3% over the first quarter. We are also seeing some of those buyers who decided to not buy last year because of rates above 7%, now starting to think 6% ain't so bad.