Tangerine and Chamomile Cake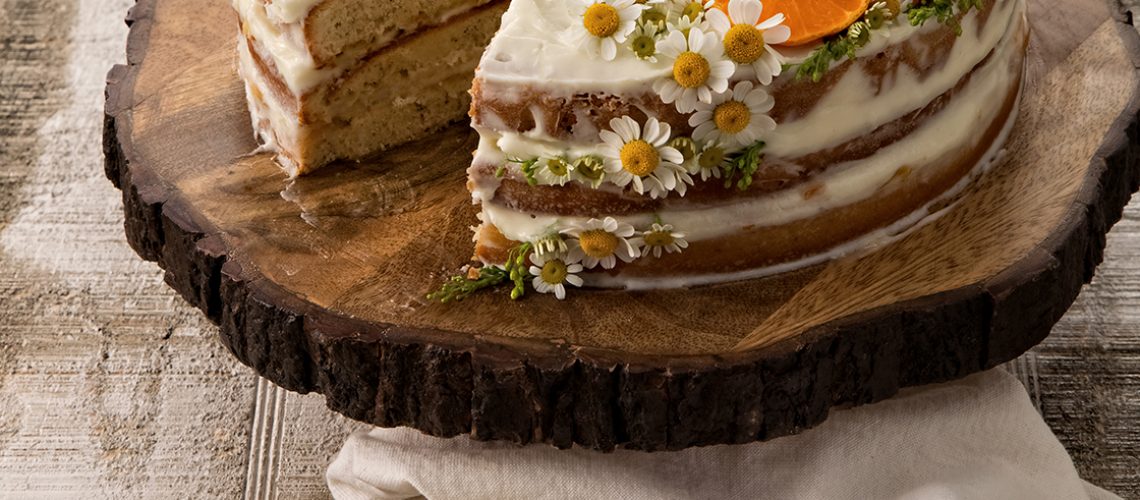 Recipe by: Patterson Watkins Photo by: Shana Smith American Lifestyle Magazine
This layered cake incorporates delightfully fresh flavors. Chamomile is steeped in milk to flavor the cake batter, and tangerine juice brings a nice, bright acidity to the icing. Tangerine slices and fresh chamomile flowers add a touch of springlike charm.
Cake Batter
1 c. whole milk
4 chamomile tea bags
2¼ c. all-purpose flour
2¼ tsp. baking powder
¾ tsp. salt
1½ c. granulated sugar
3 eggs
1 tsp. vanilla
Icing
½ c. butter, softened
1 c. cream cheese, softened
6 c. powdered sugar
4 tbsp. tangerine juice
2 c. orange or tangerine marmalade

 
Garnishes
Chamomile flowers or daisies
Tangerine slices or segments

 
Preheat oven to 350°F.
Heat the milk in a small pot over medium heat. Cut open the tea bags, and steep the chamomile in warm milk for 5 minutes, stirring frequently. Strain the milk, reserving 2 tablespoons of steeped chamomile.
Combine the flour, baking powder, salt, sugar, eggs, vanilla, chamomile-infused milk, and reserved chamomile in an electric mixer fitted with a whisk attachment. Whisk until smooth.
Cut parchment paper to fit three 9-inch cake pans lightly greased with pan-release spray. Fill the cake pans halfway with cake batter, and tap down on the counter to remove any air bubbles.
Bake for 20 minutes or until the cakes are completely cooked. Test by inserting a toothpick into the center of each cake: if the toothpick comes out clean, the cakes are done. Let cool completely.
Remove the cakes from the pans, and slice the tops to make them even and level.
Combine all icing ingredients (except marmalade) with an electric mixer fitted with a paddle attachment. Blend until smooth.
Spread marmalade on the cakes, and then top with icing. Place each layer on top of the other, inverting the final layer so the flattest surface is on top. Continue to frost the cake using a flat spatula.
Garnish the cake with chamomile flowers or daisies and tangerine slices.
Serves 6–8

Tips: To achieve this semi-naked cake look, use a minimal amount of icing on the sides of the cake. Make sure your cake is on a rotating cake stand, and use a flat surface (such as a spatula or bench knife) to spread and remove the icing.