2022 Q2 Real Estate Market Update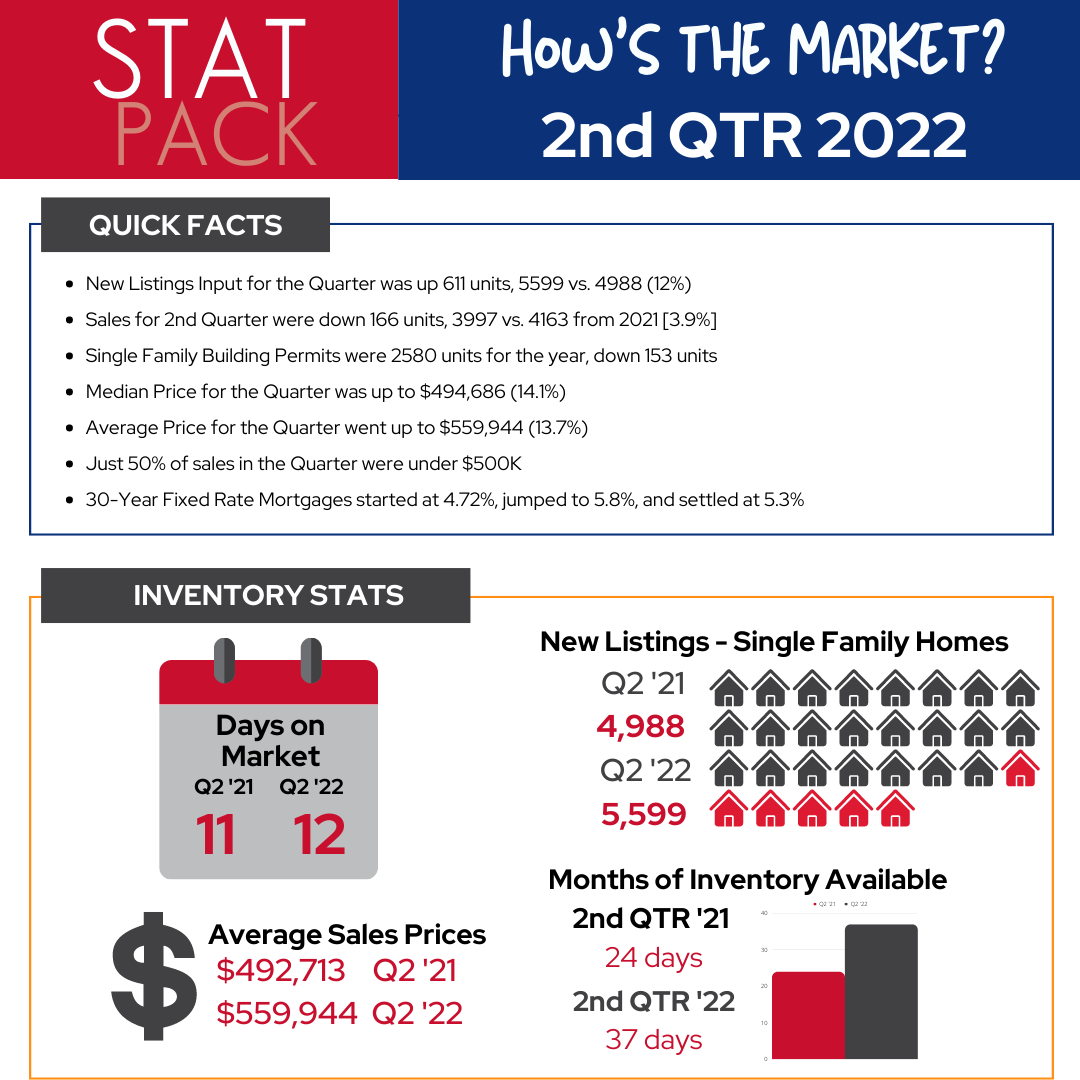 Colorado Springs Real Estate Quick Facts
New Listings Input for the Quarter was up 611 units, 5599 vs. 4988 (12%)
Sales for 2nd Quarter were down 166 units, 3997 vs. 4163 from 2021 [3.9%]
Single Family Building Permits were 2580 units for the year, down 153 units
Median Price for the Quarter was up to $494,686 (14.1%)
Average Price for the Quarter went up to $559,944 (13.7%)
Just 50% of sales in the Quarter were under $500K
30-Year Fixed Rate Mortgages started at 4.72%, jumped to 5.8%, and settled at 5.3%
Colorado Springs Real Estate Market Summary through June 2022
Well, the impacts of higher mortgage rates are now showing up in the statistics.  The most noticeable areas include the number of listings, inventory numbers and your chances of selling in the next 30 days.  
The number of active listings has dramatically increased from just 299 in January to nearly 1,800 active listings in the past week.  The jump in the number of actives is mostly due to some buyers deciding not to buy.  But, the demand in our market is still very strong as the number of sales has only dipped by about 10%.  And for the first time in nearly 2 years the Odds of Selling graph has normalized, meaning there is typically a consistent ratio between price and days on market, the higher your price, the longer it will take to sell. 
The market this past quarter went from an extreme seller's market to a market that still slightly favors sellers.  For this to have occurred so quickly was quite the shock for most buyers, sellers and agents!  But we think the market will level off as we round out 2022.  We predict that our market will become a more balanced market that is healthy as far more sustainable.